Description
A 6-ounce tin of rich bittersweet Belgian chocolate (66% cacao) paired with two bags of fennome bites and 8 wooden skewers
Chocolate Pastry Plunge is a perfect gift to send to your dessert-loving friends and family.  Also, sure to bring a ton of fun to your own next get-together.  Two bags, Apricot and Raspberry, (32 fennome Bites), of our buttery fruit-filled pastry swirls paired with a 6-ounce tin of rich dark bittersweet chocolate chips and 8 wooden skewers.  
MELT….SKEWER….DIP….INDULGE
Simply follow the easy microwave directions for melting the chocolate…Family and friends do the rest!  
Serve with fresh berries, thick cut banana slices and fresh pineapple wedges, if desired.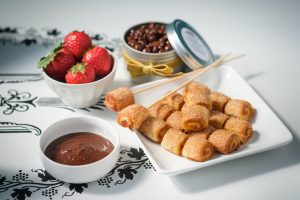 Price – $29.99
$4.99 Flat Rate Shipping! Only $4.99 shipping for each individual gift box ordered! (FOR ALL PRODUCTS)
Chocolate Pastry Plunge includes:
2 (5 oz) bags of our most popular fennome Bites (16 bites per bag) 
1 bag Apricot fennome Hungarian Pastry Bites
1 bag Raspberry fennome Hungarian Pastry Bites
A (6 oz.) tin of rich bittersweet Belgian chocolate chips (66% cacao)
8 wooden skewers
Easy microwave directions for melting chocolate – Please follow the directions carefully.  Be sure to use a microwave-safe bowl. Do hot overheat. Chocolate should not get hot, just warm, about 105 to 110⁰F. Use potholders. DO NOT OVERHEAT!
A fun delicious snack for your family and entertaining.
Serve with your own fresh berries, pineapple and bananas
S'more Bites – Skewer fennome with mini marshmallows before plunging into chocolate. 
Extra Toppings – Take the plunge, then sprinkle with your favorite toasted chopped nuts, shredded coconut, or festive sprinkles.